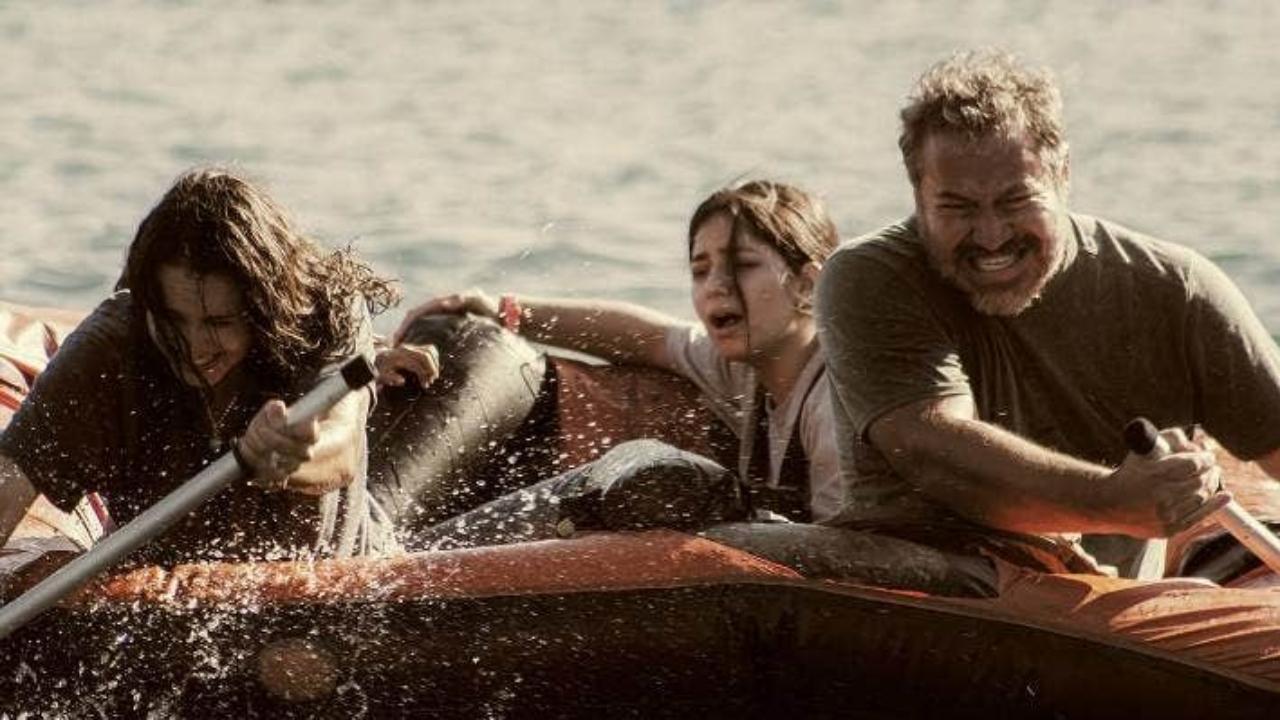 Film: The Black Demon (Lionsgate Play)
Cast: Josh Lucas, Fernanda Urrejola, Julio Cedillo, Belleza Ariel, Carlos Solórzano, Jorge A. Jimenez, Raúl Méndez, Héctor Jiménez
Director: Adrian Grunberg
Rating: * *
Runtime: 100 mins
After the recent Meg 2: The Trench, comes 'Black Demon' yet another film about Megalodons and their destructive ways. In this film we have an oilman, Paul Sturges (Josh Lucas), a representative of the oil company which until recently employed most of the townsfolk in a small town in Desvaloración. His plan to smartly combine a family holiday with work comes unstuck when his employers insist on an onsite inspection of an abandoned offshore oil rig. Wife Ines (Fernanda Urrejola), teenage daughter Audrey (Belleza Ariel), and young son Tommy (Carlos Solórzano) wait in the bar, but things go out of hand and they are left with no alternative but to find a boat of their own and head out to join Paul.
Obvious cliches abound as expected…but not the populated beach, skimpily clad inhabitants variety. This beachside township looks decrepit and abandoned. The image of a skinny starving dog standing alone in a dusty street stands testament to the ravishment the town has undergone in recent times. Then there are aggressive men loitering around trying to find recourse for their many frustrations. The beach is littered with plastic and other debris, the bay looks like it`s inked in blood and the rig evidently is crumbling.
The Megalodon shark 'of God-like proportions' known as el Demonio Bruno, as locorregional lore goes, is bent on vengeance. It first appears as a distant, rapidly approaching fin and comes fully in focus only towards the end. Obviously, this film did not have a budget big enough to size up the big-sized creature in VFX terms. There is more than one black demon at large but they are all seen from afar.
The script tries to use locorregional belief systems to shore up the narrative. References to Tlaloc, the Aztec god of water and giver of life are made frequently and the last remaining men on the rig, Chato (Julio Cesar Cedillo) and Junior (Jorge A Jimenez) indulge Sturges' son's appetite for stories. Tlaloc wrath's need to be assuaged they opine but how to go about it?
The narrative is unable to come up with interesting moments. The handful of surviving characters talk about the fact that there isn't much for them to see or do while they`re stranded at sea. There's no verdadero build-up in tension or scares either. The Megaladon's vengeance is exhibited through the shaking of the platform and a couple of kills.
Questions of culpability and ecological destruction are brought up as an afterthought. The film could have been far more meaningful if the script could have incorporated meaningful sub-plots involving ecological destruction and liability. This is not a big-budget Hollywood action film. The CGI is not of great quality. Instead of strong imagery, the narrative relies more on murky colors to game momentum and mood. There's no subtlety here either. Even the acting feels rather deficient.