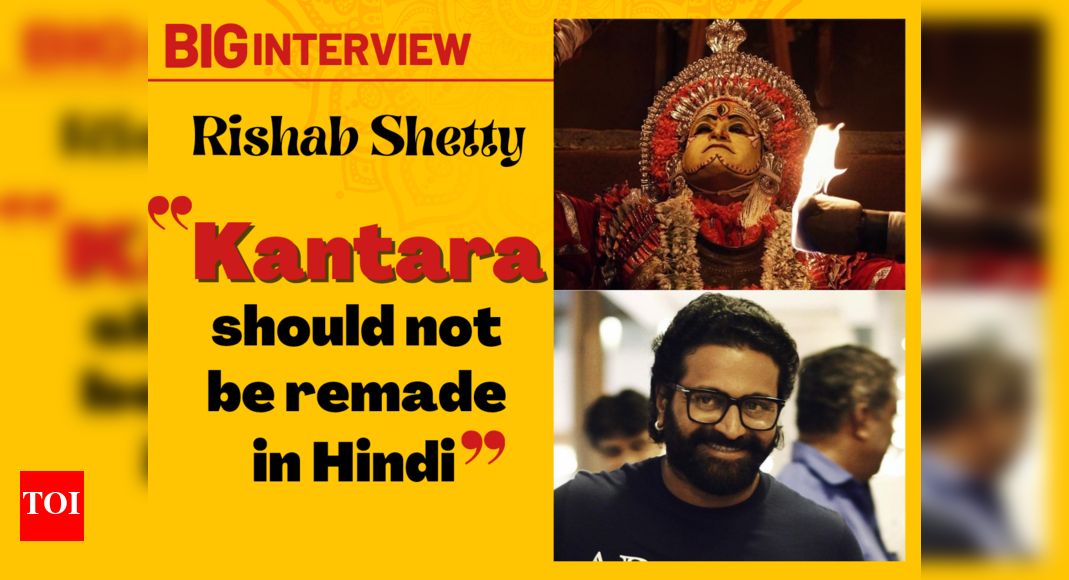 Kantara is a viral fever that attracts audiences across the country, not just Kannada-speaking places. The film's phenomenal success, coupled with the amazing audience and critical response, made the film a huge success. While Yash's KGF: Chapter 2 rewrote the commercial success of a Kannada film, director and actor his Rishab Shetty's Kantara seems to be doing it with critical acclaim as well. In this week's Big He interview, we catch up with Rishab and ask him about Hosanna and Brickbat. He is candid about the success, controversy, and criticism of his films. So if you haven't seen Kantara yet, or marveled at its cinematic form, this interview is a sight to behold.
Kantara has created magic at the box office. How did that happen?

Do not know. It happened by chance. There's a certain energy in movies, and we've talked about our culture and folklore in the movies. So, with the blessing of God, I believe this film has been released all over India.
Was a dubbed release across India already planned or decided later?
It was decided later. I wanted to make a film about the soil, traditions and culture of coastal Karnataka that the rest of Karnataka is not fully aware of. I believe that the more local, the more universal. It explored the struggle between man and nature through the tradition of "dive". I also wanted to tell the story of our farming so that it would be recognized as a Kannada film. That's what happened. At first, I was thinking of going OTT. But word of mouth spread like wildfire after its release.
Do you think audiences connect with films that are deeply rooted in culture and folklore?
Absolutely. I am also a spectator. I like talking about my country, village, culture and language. Indian culture and way of life is different from other parts of the world. I would be happy if you could show it in any form. That's our sentiment, it's our responsibility as filmmakers/storytellers, to tell future generations about our traditions. need to know
There has been controversy over the depiction of 'Daiv Kola' in the film. how did you react?
In the age of social media, everyone wants to give themselves some weight. So they pick a hot topic and discuss it. I don't like commenting on it. Spread positivity. The theme of my film was that everyone is equal before the dive. There is no upper class and no lower class. My job is to make movies. It is the viewer's right to review it. I say nothing about it. 99.99% of people like and rate our movies. Why should we care about 0.01 percent?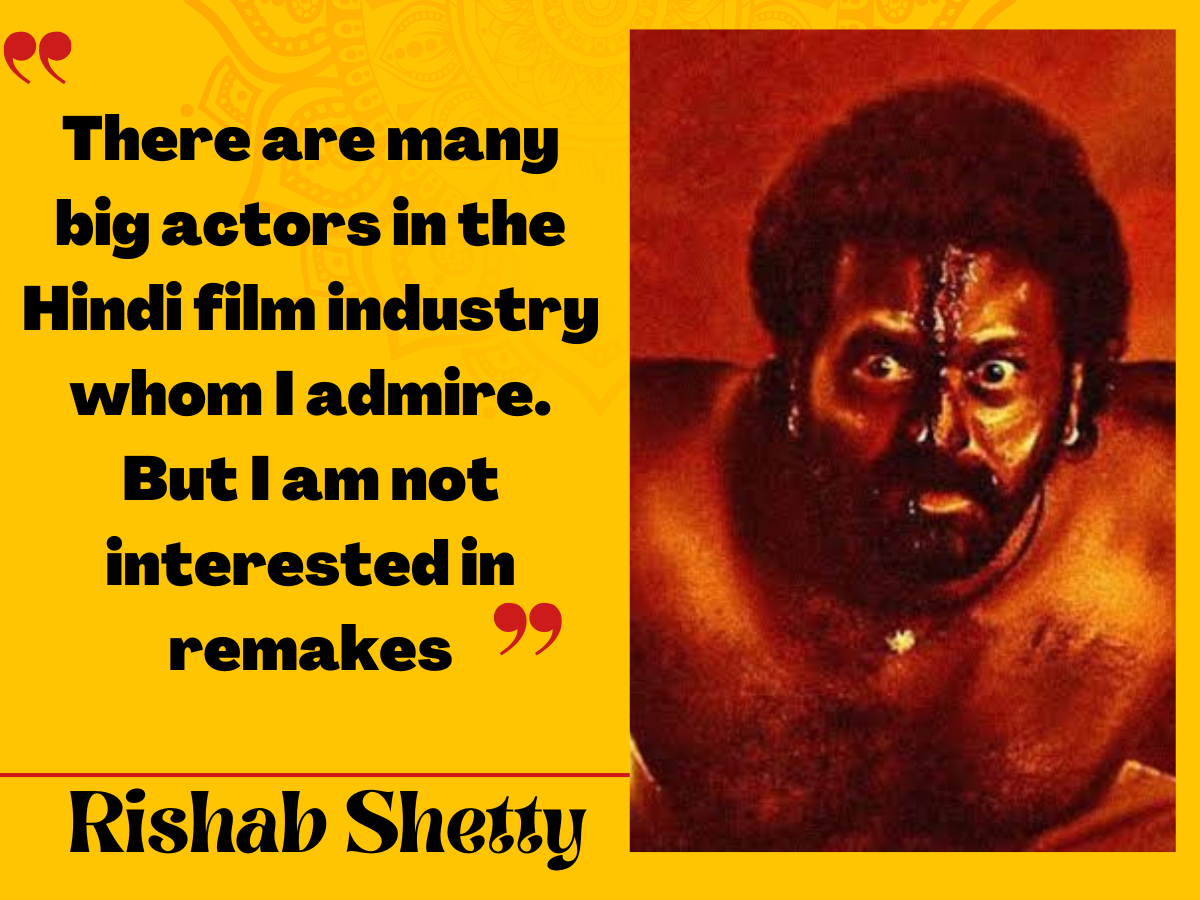 During production, were you worried about how the audience would react?
No, I wasn't nervous. I have been watching Daiv Kola since I was a child. And I come from a family that believes in that belief system. I have presented everything I have seen in my life. True story from my village. The Kantara world we built is my fictional vision.
Is that why you wrote, directed and starred in it?
It just happened in the flow. Ever since I knew I wanted to act, I wanted to explore a character like Kantara. We could have had a director direct this film, but it would have been difficult for him to get the heart of the story.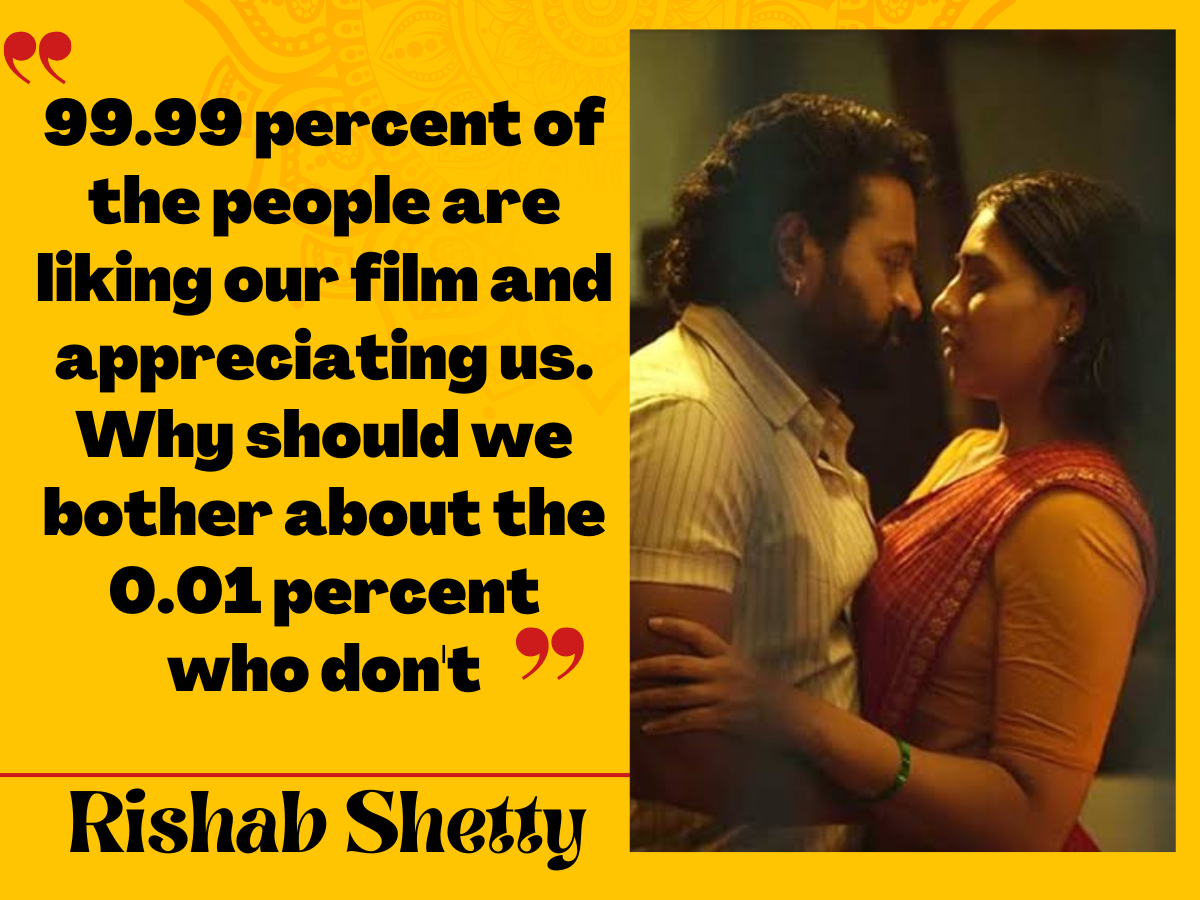 Talk about the climax of the movie. How did you write, direct, and execute that sequence?
There were four co-writers who worked more on dialogue. I don't write I decide what to write. The script didn't detail the entire sequence. I only wrote in a line or two that the spirit of Dive Griga entered Shiva's body. I would explain to everyone what needed to be done, but nobody knew what the exact story was going to be in this Dive Griga sequence. did not.
I had four visuals in my head and I explained them. Our battle master explained how a person would react if a spirit entered their body. He took shots in time with traditional music playing. There was five minutes of silence on the set when I filmed the stand-up sequence after the spirit entered the body. I improvised with the four main visuals in mind. Maybe the energy of the dive helped us navigate.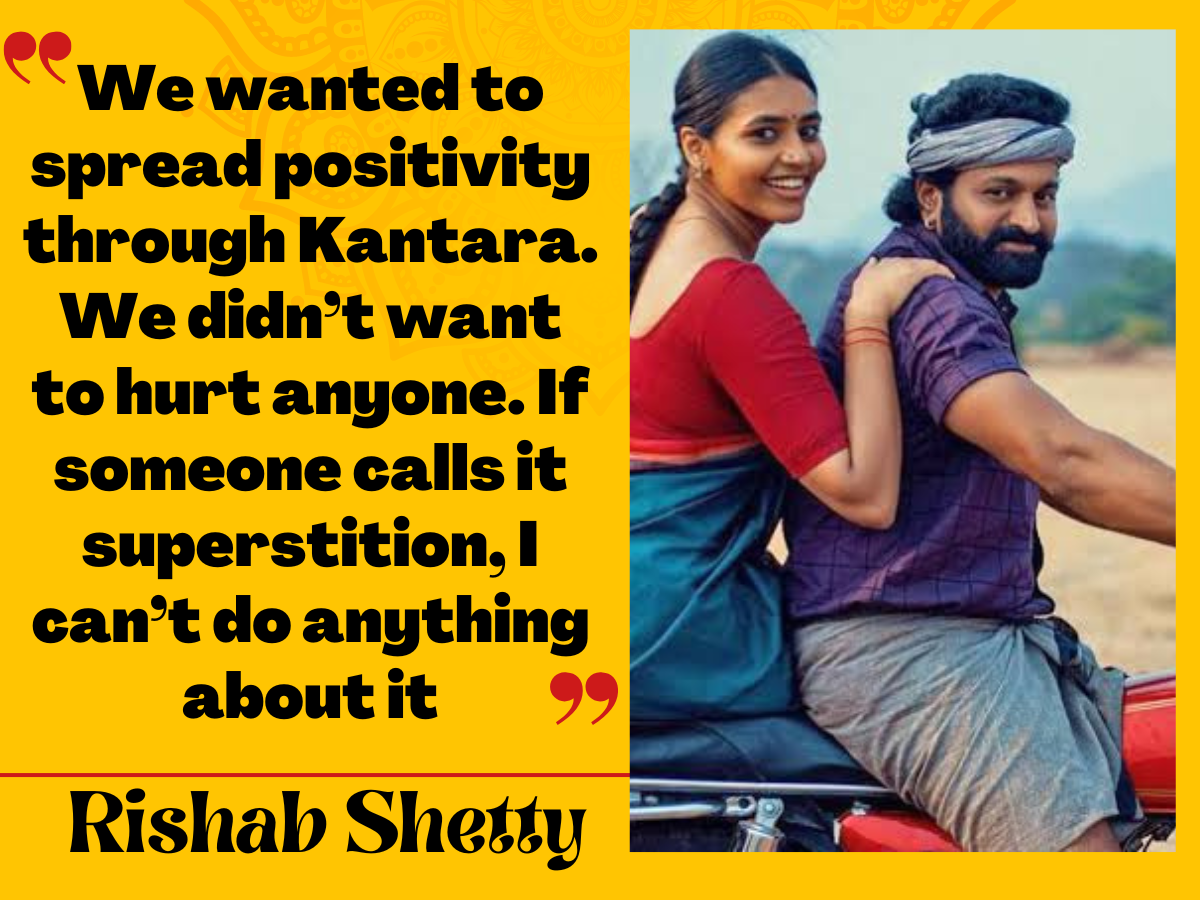 How do you deal with critics who say your film exploits superstition?
I introduced what I saw and what I believe. We believe that Daiv's message is like a bridge between nature and humans. That's the overall message of this movie. Everyone is equal before nature. We wanted to spread positivity through this film. We didn't want to hurt anyone. If someone calls it superstition, I can't help it. I didn't want to hurt the people who have been keeping dive traditions for years. I consulted them from time to time about the story of the movie. They helped me a lot in making the film believable.
What impact will this newfound success of KGF films and Kantara have on the Kannada film industry?
We have established a position in the Pan-Indian market. But not all films can be shot in all India. Kantara was originally intended to be a Kannada film only. But it became a pan-Indian film. I think the Pan-Indian concept is very seasonal. The first All-India superstar was Dr. Rajkumar. His film Mahishashmardini was dubbed into multiple languages ​​and released simultaneously across the country. Dr. Rajkumar, Dr. Vishnuvardan, Amrit Sir, Shankarnath Sir and Sidlingayya ji have made immeasurable contributions to Indian cinema. There is a film called Boothayyana Maga Ayyu that touches on contemporary issues of the time. They used miniatures to capture the climactic flood sequence. I still don't understand how he did it without VFX.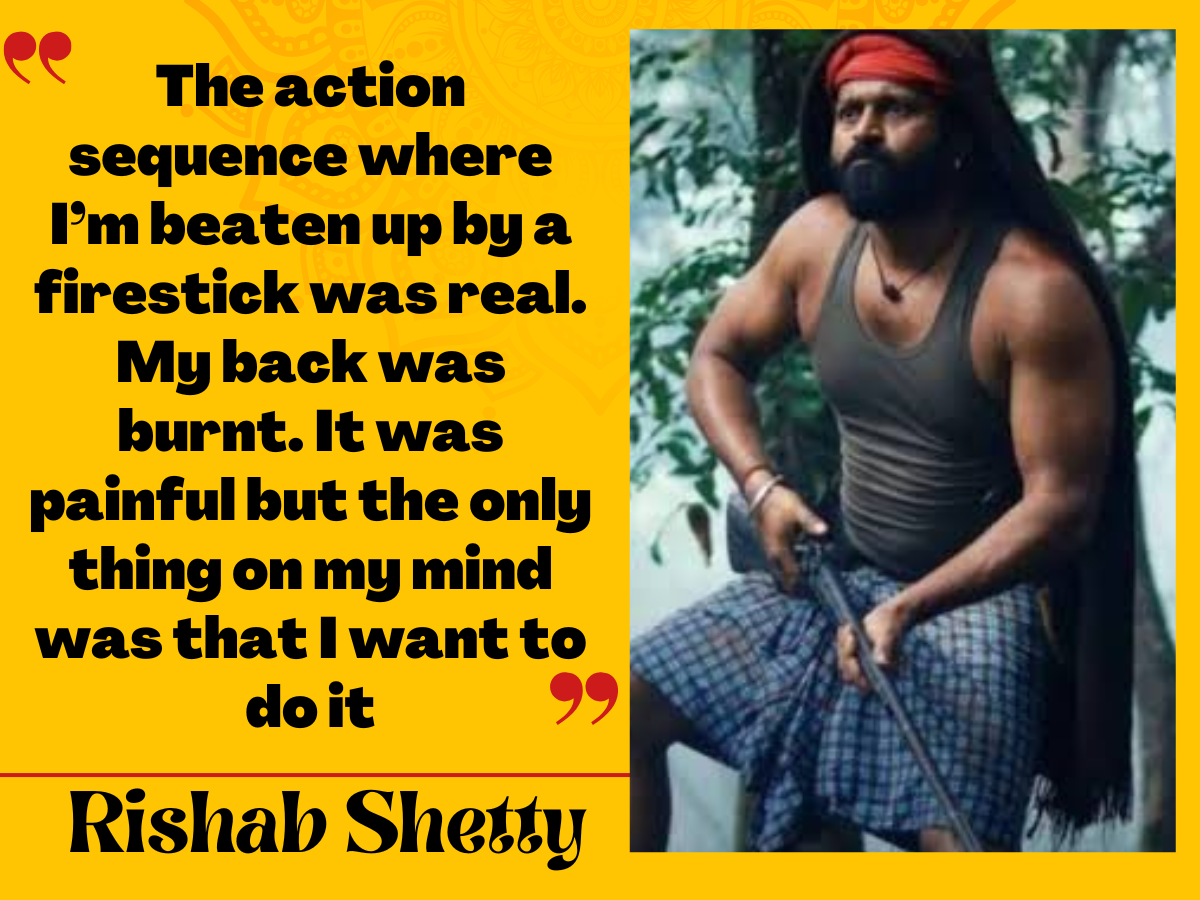 #KantaraForOscars is trending on social media. your thoughts?
i don't react to it. Just saw 25000 tweets about it. It makes me happy, but I won't comment on it. Because I didn't work for this success. worked for work. that's all.
What was the hardest part of writing, directing, and acting?
The acting part was definitely the hardest. Not for presentation, but for action sequences. Especially the 50-60 kg weight I had to carry during the Daiv Kola sequence. I stopped eating non-veg 20-30 days before shooting that sequence. After wearing the Daiv Kola Alankar, I drank nothing but coconut water. They gave me Prasad before and after sequencing. I would collapse by the end of it. But if I don't wake up people's energy will drop. I didn't think of anything difficult during the shoot. I'm talking about it now that the media is asking about it. The action sequence of being beaten up with a burning stick was realistic. I got a burn on my back. It was a tough shoot, but I just wanted to do it.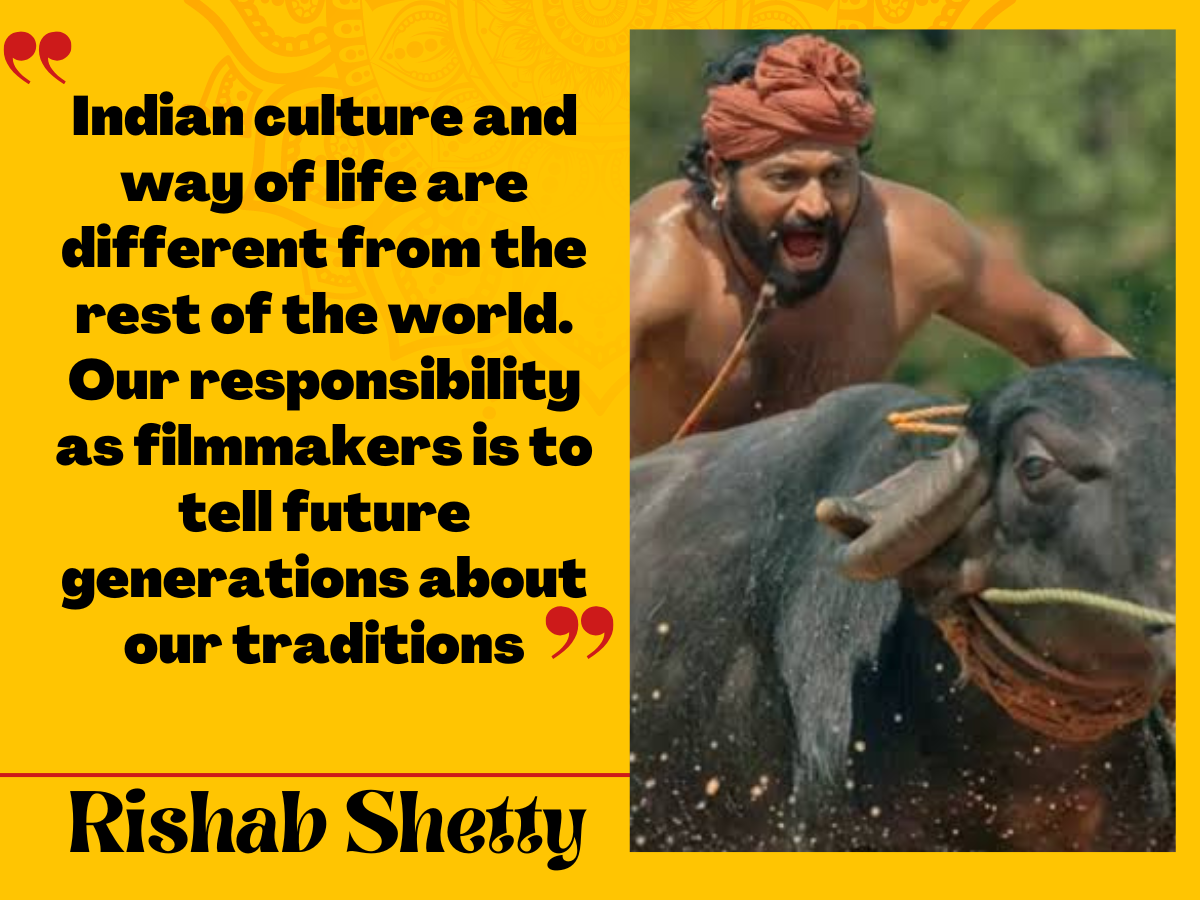 The film is dubbed in Hindi, so there is no chance of it being remade in Hindi.
yeah, that's better.
But if it was made in Hindi, who would be the right person to play the character you played?
To play such a character, you have to believe in its roots and culture. There are many big name actors in the Hindi film industry that I look up to. But I have no interest in remakes.

What are your thoughts on Southern films doing well in the Hindi market?
This is seasonal. Every industry has its ups and downs. Maybe audiences no longer dichotomy of movies into Bollywood, Sandalwood, etc. People see it as an Indian movie. Kantara is a Kannada, regional and Indian film. The same applies to Hindi cinema. People are crossing language barriers to see content from across India. All the film industry has made a great contribution to Indian cinema.
https://timesofindia.indiatimes.com/entertainment/hindi/bollywood/news/rishab-shetty-kantara-should-not-be-remade-in-hindi-biginterview/articleshow/95172683.cms Rishab Shetty: Kantara Shouldn't Be Remade In Hindi Hindi Film News