Movies
Outrage, Morvern Callar, Man on the Moon: Recommendations for Jim Humphill's Home Video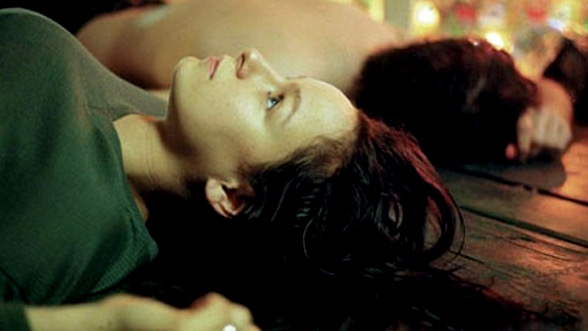 Morvern Callar
In the 1940s, actress Ida Lupine was one of Warner Bros. The most reliable contract players, a performer who has singled out hard intelligence in short genre films such as High Sierra and They go at night. As independent as her characters, Lupine annoyed her friend's office with her refusal to take on lower-level roles, and was eventually fired, which may not have contributed to her bank account, but caused her most fruitful period as an artist. Instead of waiting for the phone to ring, Lupina set up an independent production company and began directing her own paintings, some of which have now become classics (Hitchhiking, Bigamist) and all of them carefully avoid the unconventional both in subject matter and in aesthetics. OutrageAn example is that which Lupine staged in 1950. A relentless look at how a rape victim continues to be punished for months after her assault – the legal system, social prejudices, her own psyche – is a groundbreaking character study that awaits more famous films like Accused and A promising young woman. When Outrage lacking the clarity of these films (Lupino worked with extremely small budgets, even for that era), he also turns his scale limitations into advantages by delving into his heroine's subjective experience by cutting back on a style that is particularly effective when it comes to expressionist sound design (not surprisingly, Martin Scorsese referred Outrage as an impact). Lupina is one of the least sentimental filmmakers of her time, and her straightforward honesty forces Outrage eternal work, which, unfortunately, has been difficult to see in recent years. This situation has been fixed with a wonderful new Blu-ray from Imprint which boasts a new show taken from the original negative, and a brilliant audio commentary by film critic Alexandra Heller-Nicholas, which contains Lupin's interpretation of sexual violence in a variety of psychological, sociological, and cinematic contexts. Heller-Nicholas literally wrote a book on the subject – hers Films of Rape and Revenge: A Critical Study is a must-read text on the shelves of any self-respecting film buff – and her commentary highlights an indispensable film from an extremely important director.
Heller-Nicholas also comments (with fellow historian Josh Nelson) on another highly recommended new release, Cheerful city Lynn Ramsey's blu-ray debut Morvern Callar. Anchored by Samantha Morton's thrilling and enigmatic performance, this is one of Ramsey's elliptical dramas that suggest that it goes beyond the genre but remains almost uncategorized due to the deliberate abandonment of traditional pointers that films use to tell us we have to think and feel in at all times. The protagonist Morton is a grocery clerk with disabilities who reacts very strangely when she finds her boyfriend's dead body after his suicide: she leaves the body on the floor for a few days, playing with friends as usual and denying one thing. what happened. When she finally takes action, it will cut the body and get rid of it with what seems to be a complete separation; she also decides to publish his recently completed novel for her own and withdraws money from his bank account for a makeshift vacation. Although the book on which Morvern Callar based on first-person narratives, Ramsey does not rely on an obvious behind-the-scenes voice instrument to explain Morvern's actions; instead, it takes both a more effective and a more radical approach to the material, finding implications for the novelist's prose in gestures, light, color, and editing. Hints of Morvern's behavior – many of which involve a sophisticated study of the film's class – are there if you look closely and find yourself more clearly when re-watching, which is encouraged by the stunning Fun City show. In addition to Heller-Nicholas / Nelson's commentary, which examines the unusual manner of dealing with trauma in the film (this will be an interesting double feature with Outrage), the disc includes an instructive visual essay by Chris O'Neill and an accompanying booklet with new insightful works by film critics K.J. Relt-Miller and Margaret Barton-Fumo. This is one of the best releases from one of my favorite Blu-ray boutique labels.
My last recommendation this week is a great special edition bio-photo by Andy Kaufman Man on the Moonnew on Blu-ray from Lorber Cinema. Originally released as a picture of a Christmas event in 1999, Man on the Moon was an easy film that could be taken for granted, given the many masterpieces that the American film industry seemed to publish weekly that year – With eyes wide closed, Magnolia, The Limey, Fight Club, To be John Malkovich, Elections, The boys are not crying, Straight story, The sixth sense, Withdrawal of the dead, The Matrixand Three Kings it's just a random choice from the top of my head. (I remember Entertainment Weekly publishing the cover of 1999, calling it "The Year That Changed the Movie," but 23 years later it became clear that we were going through the end of something, not the beginning.) Man on the Moon begins with a sequence of final titles, then adopts an experimental structure similar to the protagonist's performance comedy, and ultimately leaves this central figure more mysterious at the end than at the beginning; it is a much bolder and more complex biofilm than the previous hits of director Milos Forman and screenwriters Scott Alexander and Larry Karashevsky in the genre, People vs. Larry Flint. That film was a masterful example of that form Man on the Moon deconstructs with wit, precision and depth of feeling, which is even more surprising given the self-conscious games the film plays; despite the mirror structure of Alexander and Karashevsky's show business hall and their constant reminders that Kaufman is unrecognized, Man on the Moon comes to an emotional climax, as difficult as it is subtle. Like Kaufman, Foreman and his screenwriters make viewers guess what is real and sincere and what is not; if it turns out in the last moments of the film that Man on the Moon there is both a deep meditation on mortality and an extended meta-joke, one cannot help but be surprised by the audacity of the filmmakers in trying to achieve such different goals in the same film, and their skill in actually doing so. Blu-ray from Kino includes some great additional features, including an archival conversation between Foreman, Alexander and Karashevsky, as well as clever and funny comments from screenwriters and film historian Howard S. Berger. This is not to be missed.
Jim Humphill is a director and film historian from Los Angeles. His website www.jimhemphillfilms.com.


Outrage, Morvern Callar, Man on the Moon: Recommendations for Jim Humphill's Home Video
Source link Outrage, Morvern Callar, Man on the Moon: Recommendations for Jim Humphill's Home Video