Entertainment
Movies
Netizens react to Neeraj Chopra and Marvel collaboration, say 'I'm proud of you'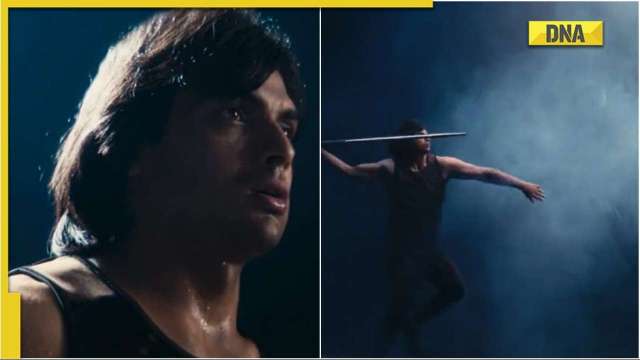 Gold medalist Olympian Neeraj Chopra delighted his fans by watching his promotional video. Black Panther: Wakanda ForeverThe javelin champion teamed up with Hollywood behemoth Marvel Studios to promote its upcoming action thriller in a new TV spot.
Chopra himself posted the latest teaser on his Twitter handle. .
Check promotion

Khel ho ya jung, jitega wohi jiska nishana kabhi chukey nahi.

Kabhi desh ke liye.. kabhi khud ke liye.. iss baar javelin utha raha hu Black Panther ke liye.

Nov. 11. Don't miss the action. #wakanda forever@Marvel_India pic.twitter.com/4SJ3BuyuEm— Neeraj Chopra (@Neeraj_chopra1) October 28, 2022
As soon as the teaser was shared, it caused havoc in the social media world. Supporters of Neeraj hailed it as a "spectacular crossover". A user wrote: May everyone see and know how happy I am today! A boy born.. This is huge and a direct main entry in Hollywood.. It's a proud moment."
read: Wakanda Forever: Neeraj Chopra Stars In Newest Marvel Flick's Epic Crossover, Check Out The Teaser

check reaction
Congratulations pic.twitter.com/5SywOjqrB2— Devyani kubade (@devyani_kubade) October 28, 2022
proud of you pic.twitter.com/UPU01WdCeR— Yash Birari (@YashBirari7) October 28, 2022
oh my god! oh my god! Am I dreaming now!

Neelaj! Today, the whole world stops for a moment and stares. Because you are wonderful. @Neeraj_chopra1 @Marvel Long-awaited collaboration!

I'm crying, I'm screaming, I'm grinning!#Neeraj Chopra pic.twitter.com/gxec2LjhlK— (@serenity__77) October 28, 2022
Surrender to a true superhero! @Neeraj_chopra1

Finally, India has its first ever powerful superhero! Righteous, Brave and Merciful!Our Beloved Neeraj Chopra #Neeraj Chopra #Golden Boy # Marvel pic.twitter.com/gTsHq72Jzc

— (@serenity__77) October 28, 2022
From "Khel Kood Ke Kya Hi Kar Lega" @Olympic Champ athletes from India collaborate @Marvel a humble village boy from India is so grateful to live on Earth conquering the whole world.

Life works in mysterious ways!
King, please bow! #Neeraj Chopra pic.twitter.com/xWRhrSsJGS— (@serenity__77) October 28, 2022
Wakanda Forever, directed by Ryan Coogler, is set to be a moving tribute to the late Chadwick Boseman, and fans received the trailer for the film very positively, calling it the 'best' Marvel movie since Endgame. Boseman passed away in August 2020 after a personal battle with colon cancer. Coogler also shared that he spent weeks revisiting footage of himself with major creative his collaborator and "Black Panther" champion Boseman. Black Panther: Wakanda his Forever will be released on his November 11th.


https://www.dnaindia.com/hollywood/report-black-panther-wakanda-forever-netizens-react-to-neeraj-chopra-s-collab-with-marvel-says-proud-of-you-2996666 Netizens react to Neeraj Chopra and Marvel collaboration, say 'I'm proud of you'