Movies
"I once said 'yes' to this film, it changed everything": DP Lee Daniel on his previous days of lazy Austin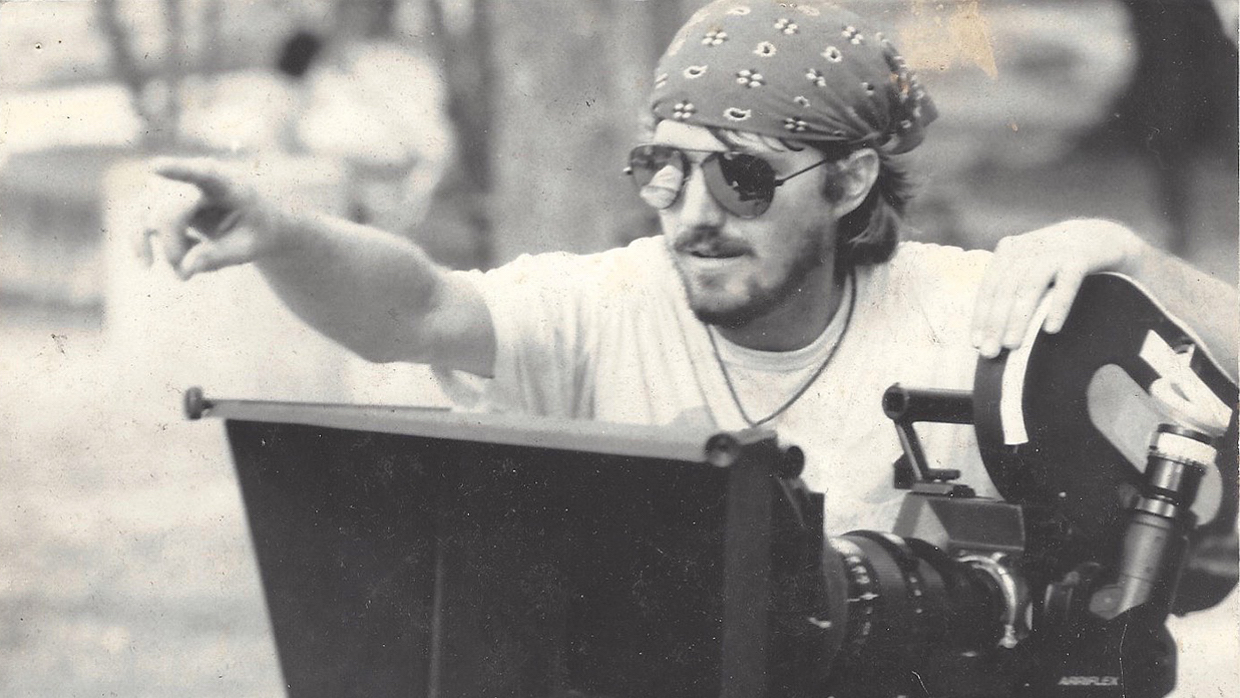 Austin in the '80s was a university town clad in the state capital, attracting a steady stream of students, dreamers and expatriates hanging out on the edge (literally and metaphorically) of the University of Texas campus, where Lee Daniel and Rick Linklater screened foreign films and postmodern films. DIY over coffee shop.
Daniel and Linklater brought the sophistication of the Renaissance home to a community of losers and moviegoers when they founded the Austin Media Arts (now Austin Film Society) in 1985. The couple lived on the street from their repertory cinema at the West Campus residence, which changed quickly. to the epicenter of the film circle. As you know, there was a cameo in the "Finger Hut" Iceberg. One day Janice Joplin was sleeping in the attic. The rent was $ 200, all bills paid.
In the summer of 1989, Daniel, Linklater and a major group of arthouse hedgehogs took to the streets of Austin to make a half-screen film about a disgruntled half-moon deep in his heart. Icebergwhich celebrated its 30th anniversary last summer, evoked the spirit of the time of generations: Daniel was the cinematographer of the film and continued to collaborate with Linklater on many projects, including Childhood (2014), Stunned and confused (1993) and Before sunrise (1995), which Roger Ebert is called Fr. Love for Generation X – "like a documentary with an invisible camera" – thanks in large part to Daniel's long, continuous filming.
Although Daniel is best known for shooting indie classics, Daniel's extensive work in documentary filmmaking was just as far-sighted. This list includes the list of Margaret Brown Be Here to Love Me: A film about Towns van Zandt and Lori Dunn The unforeseen.With more than 40 feature films and documentaries, Daniel has not only left his mark on American cinema, but Austin has forever formed his own lens.
Today, the 60-year-old filmmaker lives quietly in a high-rise building near the University of Texas campus, not far from where it all began. Daniel recently spoke with Director's Magazine about his career and those first days in Austin.
Director: How did you first become interested in film and cinematography?
Daniel: Les Blanc changed my life. When I was in high school, our class went to the city's public library and watched his documentary A good life on 16-mm projectors, about Mans Lipscomb, a bluesman from East Texas. I knew I wanted to do it.
Our neighbor, Jerry Chastain, was an operator that was extremely rare in Richardson [Dallas suburb]. He worked for a company that shot commercials and made several films. He showed me how to upload magazines with film when I was a teenager and stuff like that. I remember Jerry being asked to do an internship at Victor Duncan, which at the time was the largest camera and film company in the south. My ambition was to do camera maintenance.
In the late 70's and early 80's in the studio in Dallas was a lot of money. Las Colinas had the most modern sound scenes, as in Los Angeles; Silk tree and Robocop filmed there. But things began to fade; it just didn't become as big a Hollywood studio as they thought until the 1990s when Anne Richards [then governor of Texas] began to give tax breaks. That's what really started the Texas film industry. Las Colinas began renting out to rock bands; I shot clips in those studios when I was a camera assistant. I wasn't a shooter yet – I had a fake until you made her get closer. There I learned everything.
Director: When did you get your first camera?
Daniel: I started making Super 8 movies with my older brother when I was 13 years old. But I got 16mm for my second year at UT [University of Texas]. Austin had a small shop run by a guy named Jerry – another important Jerry in my life – who sold mostly Leicas and Nikon. But he had one little 16mm glass display called Beaulieu, and I just couldn't take my eyes off it. He had a very fancy zoom lens, and zoom lenses were a rarity back then. I had a job that paid $ 5 an hour and I think it was $ 1,500. Since I was going to film school, Jerry offered us a change: if I could shoot an ad for him, he would withdraw another $ 600 and give me credit. This ad was the first thing I shot. I later sold the camera to Mike Judge.
Director: How was your first film concert from school?
Daniel: I was a full-time student for five years, studying anthropology and film, but dropped out after I was offered an internship at Texas Pacific Film and Video, the only production company in town. At the time I was 23, I was working in a skateboard shop. A lot of great things happened in Austin in '84 / '85, but you needed people to offer it, and Richard Kooris [the owner of Texas Pacific Film and Video] did just that.
All I knew about cinema in Austin was that there might be an opportunity to do an internship at TxDOT or at one of the government agencies for what they used to call industrial films. That's what Toby Hooper did ten years before me. Richard [Kooris] was a springboard for me and many others. After I had worked out all my intern hours, they hired me right away and gave me what I thought was a great job. I was in charge of all the equipment. Clean it, work on it – I was a real technician. I could disassemble the camera and assemble it back. Also, I had the only viable 16mm camera in Austin – I wasn't confident enough as a DP or operator, but I was quite good at renting it out. I was both a camera owner and a camera assistant; I came with everything they needed.
Director: What did you enjoy most about working as a camera assistant?
Daniel: Being the 1st AC is a technical job, I had to make sure that all these actors were in the spotlight. So when they leaned into the camera, I had to pull the steering wheel, extrapolating the distance with my own eyes. Now things are different: focusers use high-definition video and monitors. Then I had to use roulette. From the optical plane of the camera you would have to remove the tape measure to the eyeball of the presenter – or anyone – in focus, which was a real problem because you had to learn to estimate this distance. I would put 4 x 8 boards to ride the doll so I could base it on that size eight feet. Some actresses and actors will be nervous for the eyes, so I would use fabric roulette instead of metal.
I worked on these films of the week that were shot in Austin. If there were ever problems in the daily newspaper when the footage was out of focus, the studio would look at the DP or the focus-pull and just clean the house. It happened in a movie in Houston sometime in the late '80s DOA They dumped all the union workers, and I was one of the few local aides who could do that, but I had to cross the picket line – I was a scumbag!
Director: When did you start Austin Media Arts?
Daniel: We co-founded Austin Media Arts [now Austin Film Society] back in 85 with Denise Montgomery, who later died of non-Hodgkin's lymphoma. It was really painful. D was an artist at all levels. I don't think it would have been possible without her film society. Most people consider D, Me and Rick to be the founders of the film society. We named it Austin Media Arts to get the best grants; we had to speak that language.
I studied at UT, and Rick was going to Austin Public College under the auspices of Cello Nafus and George Morris. The ACC had the greatest professors, I would have knocked down his courses. Chale and his partner were very important in terms of helping us. They would sign our grant applications to the city. They were so legitimate, and we weren't. We were just students. But we got our grants and from that we created the Austin Film Society.
We spent these movie nights. It was simply the epitome of postmodern cinema. The original locale was directly above Quakenbush [Captain Quackenbush's Intergalactic Dessert Co. and Espresso Cafe] in Guadeloupe. We built our own projection booth and soundproofing so people could have good cinema. I was involved with the film community for only the first 10 years; he became too big, too Hollywood. I fully understand why, but I wasn't into it. I certainly won because it meant Austin had more work to do. But it wasn't for me.
Director: So the first feature film you made was Iceberg?
Daniel: It was actually Never leave Nevadawhich I believe we filmed in 1988. Steve Schwartz and Louis Black from Austin Chronicle tried to follow in the footsteps of Eagle Penel. They couldn't come up with anyone else to shoot it but me because I owned the means of production. Steve and Louis called me and said, "You're the only one who has a camera: would you like to make this movie?"
Do it right just came out and they kept saying they wanted it to look low budget. They wanted it to be black and white. I didn't feel ready, but eventually agreed. He then went straight to the USA Film Fest in Utah – before Sundance existed – and got a deal to distribute. He walked to the Blicker Street Cinema for six weeks. I went there and watched. I couldn't believe it: the first time I went to New York, Soho and Chelsea had posters with my name on them.
As soon as I said "yes" to this film, it changed everything. They turned our whole house upside down [Finger Hut] to the production office. I certainly already had a camera, but we bought a mounting machine and brought it all in from the office of Richard Kuris, who he graciously lent us to carry all the sound. There was nothing digital; everything was analog.
Director: Was there a nice place in the beginning, somewhere between indie and industry?
Daniel: Probably around Stunned and confused. It was a turning point when I decided that my career could be more independent or narrative filmmaking than documentary production. It took a while to get through Stunned and confused in distribution. At first they didn't know what to do with it – there were no actors to get. At the time, I was still very close with Rick and we were working on creating the script. My older brother Bill graduated from high school in 1977; he was a senior, Rick and I were freshmen, so to speak, so we all compared notes and worked on topics – not dialogues, but only topics. We liked it, and we didn't know we'd get a $ 7 million budget or something. We were still in an independent kingdom, but for us it was huge –Iceberg was 23 thousand dollars.
Rick held on Stunned and confused some secret. One day he invited me to his apartment and just threw a script in front of me and it was written there Stunned and confused: author Richard Linklater. I told him, "Rick, I didn't know your name was Richard!" He made the right move, he really did. He knew what he was doing.
Director: Iceberg last summer you turned 30, and in January last year you turned 60 – exactly half your life. Looking back, what do you think of the film?
Daniel: I can't say how many hundreds of people said they moved here Iceberg. This was not our intention! If you watch a movie, you think, why are you here? [Laughs.] It was a catalyst for something I didn't see.
This interview has been edited for length and clarity.


"I once said 'yes' to this film, it changed everything": DP Lee Daniel on his previous days of lazy Austin
Source link "I once said 'yes' to this film, it changed everything": DP Lee Daniel on his previous days of lazy Austin