Movies
"I believe that the assessment of the African audience violates the cliché pattern to which we are accustomed": Aquol de Mabior on her debut document at the Berlinale "The Easy Way Home"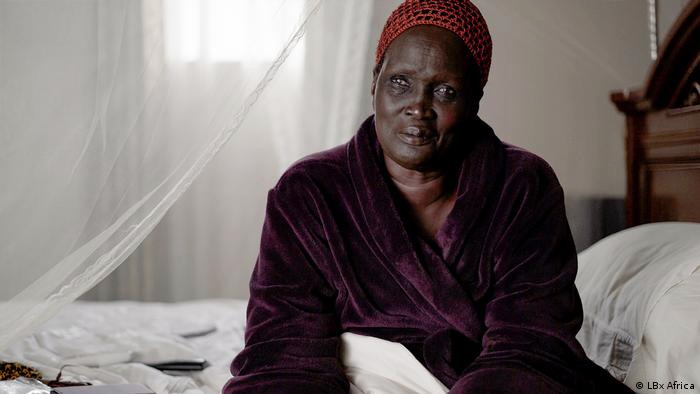 There is no easy way home
South Sudanese director Aquol de Mabior There is no easy way home is a great example of what African filmmakers can achieve if Westerners just go out of their way. World premiere in the "Panorama" section of this year's Berlinale, a document produced by Kenyan director Sam Sok (Software) and the South African duo Tiny Mungwe and Don Edkins of STEPS (Social Transformation and Empowerment Projects) as part of the Generation Africa initiative, a "pan-African anthology of 25 documentaries from 16 African countries on migration". And he's not talking about how people are fleeing to the mythical "Promised Land" of the colonizers, but are demonstratively staying on their continent to correct the effects of historical grievances at home.
Fortunately for de Mabior, the very embodiment of the return of power for the people is literally in her house – since her mother – Rebecca Nyanden de Mabior, who is also the "mother of South Sudan". The director herself was expelled as a teenager in 2005, shortly after her father, rebel leader who became politician John Garang de Mabior, died in a helicopter crash (three weeks after becoming Sudan's first vice president) . And now, after years of debilitating conflict, South Sudan's independence (in 2011) and a shaky peace deal, the mother – and the current vice-president of South Sudan – and her adult daughters have returned with high hopes. Together with the camera of the director's brother and sister on a tug.
Director a week before the debut of her documentary "Berlinale" turned to the director, who was born in Havana and lives in Nairobi, for the first time to learn all about this most unusual family film.
Director: I was amazed that this is a completely feminist as well as an African project. So how did working with an all-African, all-female cast and crew affect the production and the film itself?
De Mabior: The most significant advantage of working with an African women's crew was how comfortable my mother was with us in her bedroom. I don't think otherwise we would have reached the level of closeness we have reached. She was comfortable when (DP) Emma Nzioka and (the place of the sound engineer) Josephine Abouda were in her personal space, and even noted that we are all like her daughters.
Director: While your mother seems incredibly supportive and open-minded, I believe her shaky political stance in South Sudan could also have made her quite cautious. Has she always been involved on board? Has it set limits on when and where it can be filmed?
De Mabior: My mother was the most on board. At no point did she ask to view the footage. I showed her the movie just a few weeks ago when only my sisters and she were in the room. She trusted me and was deeply committed to the truth. I knew it from the beginning, but I know it more now, at the end of it all.
Director: So how was it working with your producers Sam Juice (Software), and Toddler Mungwe and Don Edkins of STEPS (Social Transformation and Empowerment Projects)? How involved were they?
De Mabior: It was a great privilege and pleasure to work with Sok, Don and Tini. Sok and I worked very closely together. I would say he is my confidant in the movies. Without him, I would not have succeeded. He is a brilliant narrator and film editor, and I have relied many times on his talent and experience along the way. He was also the most steadfast in his confidence in history, from beginning to end. I learned a lot from him.
I am always delighted with Don and Tina, as well as the STEPS team behind the Generation Africa project. They have created a beautiful network of African directors. They were there at every turn for more than 20 teams of directors from all over the continent. The first few films released from the collection were a really encouraging success.
Director: At some point in the film, you notice how often you are expelled from political meetings. What made me think: to be the daughter of the "mother country" positively or negatively in terms of access. How did the presence of the camera affect the situations you filmed (and vice versa)?
De Mabior: Whether we filmed high-level meetings in government buildings or on the streets of Juba, we had to negotiate. There is a general suspicion of the camera that I understand and respect. South Sudan is portrayed in the media as a country of chaos and despair. This is unfortunately a big part of our story, but it's not the whole story.
We had to bring to the people we want to shoot, convince them that we have no harm. We have not always been successful. But, nonetheless, I appreciate all these engagements.
Director: As an American, I always enjoy watching a paper that avoids all of our usual indulgent stamps of developing countries. З There is no easy way home you represent something like an anti-Western narrative in which people categorically do not flee to the "Promised Land" of Europe and the US, but instead struggle to return home and stay. Obviously, STEPS is determined to defend these stories, but how do European investors react in general?
De Mabior: Our fundraising experience is mostly positive. I am told that this is not the norm. I believe that the assessment of the African audience violates the cliché pattern to which we are accustomed. These clichés represent Africa and Africans as one way or another. Early African responses to the film suggest that we crave stories that do not focus on extremes – one way or another – but on the complexity in the middle.


"I believe that the assessment of the African audience violates the cliché pattern to which we are accustomed": Aquol de Mabior on her debut document at the Berlinale "The Easy Way Home"
Source link "I believe that the assessment of the African audience violates the cliché pattern to which we are accustomed": Aquol de Mabior on her debut document at the Berlinale "The Easy Way Home"